Storage Wars Channel Number On Tata Sky, Airtel DTH, Dish TV & more
Storage Wars is telecast Monday to Thursday at 7:30pm on History TV18 India channel. The show can also be stream on the Jio TV & Airtel TV. Check other TV operator details –
| Name Of Operator | Channel Number |
| --- | --- |
| Tata sky SD | 721 |
| Tata sky HD | 720 |
| Airtel DTH SD | 432 |
| Airtel DTH HD | 433 |
| Dish TV SD | 820 |
| Dish TV HD | 819 |
| Videocon D2h HD | 953 |
| Hathway SD | 452 |
| Hathway HD | 373 |
| Asianet Digital TV | 503 |
| SUN Direct TV SD | 549 |
| SUN Direct TV HD | 960 |
| DEN SD | 167 |
| DEN HD | 206 |
| Siti Cable SD | 467 |
| Siti Cable HD | 767 |
Storage Wars TV Show
Storage wars are one of the top-rated American television series, averaging more than 2 million viewers worldwide. In California, there's a rule that says if the tenant of a storage locker fails to pay the due rent, then after a certain point of time, the auctioneer has the right to take charge and auction that storage locker. The show is based on this idea; however, it might seem a little vague but the show is a grand success. Currently, the show is in its 13th season and has over 250+ episodes on air. The producer of the show is Dolph Scott and the production companies are, Original Productions, Fremantle, and A+E Networks.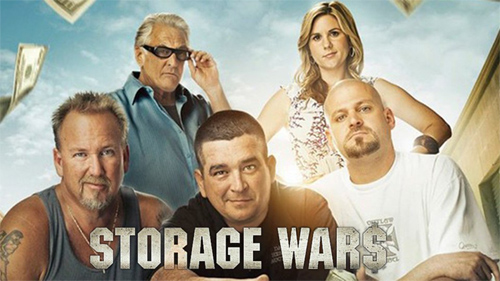 So, when the tenant fails to pay the rent, the storage locker is auctioned. The events shown in the series are completely un-scripted and live. There are two auctioneers of the show namely, Dan Dotson and Laura Dotson, husband and wife. However, there have been two more auctioneers over the course of different seasons. Now, the auctioneer starts the bid and the buyers start raising the bid. Before the bid begins, each buyer is given some time to peep inside the locker to have a rough idea of what could be inside. They are not allowed to step inside the locker. When everyone has had their time, the bid begins. Even the bids are raised, there are always two bidders who simultaneously raise the bid, and this is where it gets interesting for the viewers. One among them is always Dave Hester, he likes to win every locker he bids on to. Apart from Dave Hester, there are other bidders as well like Brandon Sheets, Darrell Sheets, Barry Weiss, and many more.
On the count of three, if no one further raises the bid, the highest bidder is the winner. The transaction is on a cash-only basis. After winning the locker, the buyer gets the keys to the locker and can now enter inside. They have a good look inside of what can fetch them good bills. Then the buyer starts to evaluate each and every item, with luck some even find rare antique items as well, if by selling all the items makes a profit, then it seems a good deal. If anyone finds a rare, expensive, or unexplainable item, they first consult it with an expert and then put a price tag on it.
Storage Wars Timing & Schedule with Repeat telecast Timing
| | |
| --- | --- |
| TV Channel Name | History TV18 |
| Streaming Platform | Jio TV, Airtel TV |
| Show Timings | Mon – Th, 7:30 PM – 8:00 PM |
| Running Time | 22-25 Minutes |
| Repeat Telecast Timing | Mon – Sun, 10:00 AM – 10:30 AM |
| Starting Date | 1 December 2010 |
| Language | Hindi |
| Region | Indian |
Storage Wars TV Show Channel Number
Storage Wars Serial Channel Numbers on Tata Sky SD – 721
Storage Wars Serial Channel Numbers on Tata Sky HD – 720
Storage Wars Serial Channel Numbers on Airtel DTH SD – 432
Storage Wars Serial Channel Numbers on Airtel DTH HD – 433
Storage Wars Serial Channel Numbers on Dish TV SD – 820
Storage Wars Serial Channel Numbers on Dish TV HD – 819
Storage Wars Serial Channel Numbers on Videocon d2h – 953