OMG! Yeh Mera India Channel Number On Tata Sky, Airtel DTH, Dish TV & more
OMG! Yeh Mera India is telecast Monday to Friday at 8:00pm on History TV18 India channel. The show can also be stream on the Jio TV & Airtel TV. Check other TV operator details –
| Name Of Operator | Channel Number |
| --- | --- |
| Tata sky SD | 721 |
| Tata sky HD | 720 |
| Airtel DTH SD | 432 |
| Airtel DTH HD | 433 |
| Dish TV SD | 820 |
| Dish TV HD | 819 |
| Videocon D2h HD | 953 |
| Hathway SD | 452 |
| Hathway HD | 373 |
| Asianet Digital TV | 503 |
| SUN Direct TV SD | 549 |
| SUN Direct TV HD | 960 |
| DEN SD | 167 |
| DEN HD | 206 |
| Siti Cable SD | 467 |
| Siti Cable HD | 767 |
OMG! Yeh Mera India TV Show
With Krushna Abhishek as the anchor of the show, OMG! Yeh Mera India has been deemed to be the longest and most successful running factual show. The show created an instant buzz among the audience as it was about to showcase something we as Indians should be really proud of, some things that make us stand apart. The show takes us on a journey where people have superwoman, odd or rare abilities to do, feel or handle things. The show is currently in its 7th season and first aired on television in 2016. The host of the Krushna Abhishek is the nephew of Bollywood legend Govinda. Krushna has made his image as a stand-up comedian and has participated in and won many Indian comedy shows. Currently, he is seen often in The Kapil Sharma Show.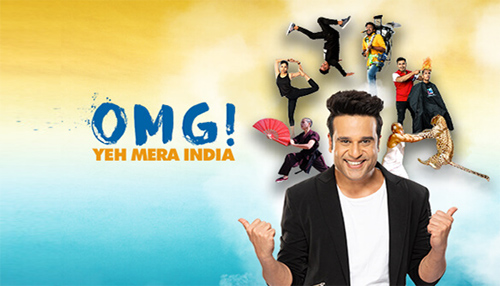 Each episode is about half an hour long and they have shown us a family with 181 members to India's electric man Deepak Jhangda from Sonipat, Haryana. The man could bear up to 11,000 volts without a shrug. In each episode, Krushna takes some time to first narrate the scenario we are about to see, some back history about the person, and why the person keeps doing what he does. In a similar fashion, the show takes us around the country and finds these hidden gems who deserve to be recognized and we should be vouching for them. These people have either been gifted or have developed these specific skills which make them superhuman.
Even though it might seem it bit out of place to cast a comedian like Krushna Abhishek to a factual show, but he is doing his job pretty well. It's the same as casting Manish Paul as the host of Science of Stupid.
OMG! Yeh Mera India Timing & Schedule with Repeat telecast Timing
| | |
| --- | --- |
| TV Channel Name | History TV18 |
| Streaming Platform | Jio TV, Airtel TV |
| Show Timings | Mon – Fri, 8:00 PM – 8:30 PM |
| Running Time | 22-25 Minutes |
| Repeat Telecast Timing | Mon – Fri, 03:18 PM – 03:36 PM |
| Starting Date | 29 June 2017 |
| Language | Hindi |
| Region | Indian |
OMG! Yeh Mera India TV Show Channel Number
OMG! Yeh Mera India Serial Channel Numbers on Tata Sky SD – 721
OMG! Yeh Mera India Serial Channel Numbers on Tata Sky HD – 720
OMG! Yeh Mera India Serial Channel Numbers on Airtel DTH SD – 432
OMG! Yeh Mera India Serial Channel Numbers on Airtel DTH HD – 433
OMG! Yeh Mera India Serial Channel Numbers on Dish TV SD – 820
OMG! Yeh Mera India Serial Channel Numbers on Dish TV HD – 819
OMG! Yeh Mera India Serial Channel Numbers on Videocon d2h – 953