Forged In Fire Channel Number On Tata Sky, Airtel DTH, Dish TV & more
Forged In Fire is telecast Monday to Sunday at 9:00pm on History TV18 India channel. The show can also be stream on the Jio TV & Airtel TV. Check other TV operator details –
| Name Of Operator | Channel Number |
| --- | --- |
| Tata sky SD | 721 |
| Tata sky HD | 720 |
| Airtel DTH SD | 432 |
| Airtel DTH HD | 433 |
| Dish TV SD | 820 |
| Dish TV HD | 819 |
| Videocon D2h HD | 953 |
| Hathway SD | 452 |
| Hathway HD | 373 |
| Asianet Digital TV | 503 |
| SUN Direct TV SD | 549 |
| SUN Direct TV HD | 960 |
| DEN SD | 167 |
| DEN HD | 206 |
| Siti Cable SD | 467 |
| Siti Cable HD | 767 |
Forged In Fire TV Show
Another show with all new concepts and excitement, the series Forged in Fire delivers its literal term where world-class bladesmiths compete together until there's only one winner left. The winner gets an award that says "Forged in Fire Champion" from the show and a $10,000 cash prize. There are 3 judges and a host for the show, the host is Wil Willis and the three judges are J. Neilson, David Baker, Doug Marcaida. However, the host and judges have been changing during 8 seasons, the current host of the show is Grady Powell. The show is produced by Outpost Entertainment and has a total of 195+ episodes as of 2021. Each episode has a run time of 40-45 minutes. As of now, there are no reports of season 9 but the fans do expect that to happen.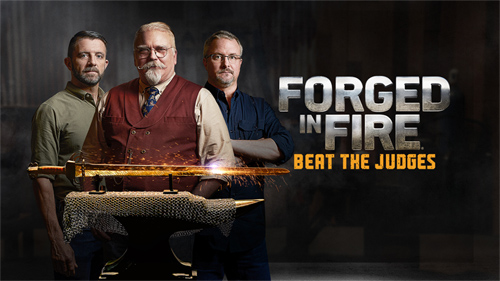 The show starts with 4 contestants or bladesmiths and the competition consists of three rounds. In the first round, the bladesmiths are required to forge a blade with the given material. The bladesmiths may choose any design as per their liking and are given 10 minutes to make a blueprint of the blade and another three hours to forge it. After the timer runs out, no bladesmith is allowed to touch their blade, be it complete or not. The judges then examine the blade according to given criteria like design, quality, and craftsmanship. Any bladesmiths who fail to meet these are eliminated. In the second round, the bladesmiths are required to convert that blade into a weapon i.e., attach a handle, give it a better design or add any other feature of their liking.
After the time expires, the judges put these blades to a strength and durability check. In this, the judges try to chop various hard things like a big chunk of meat or a silicon human body. With this, if the blade outperforms these criteria, it is passed, else it is rejected and the contestant is eliminated. In the final round, the two remaining bladesmiths are shown any historical or rare weapon which they have to duplicate. They are given 5 days to do so and can choose a location as per their liking. The bladesmith who makes the closest replica fulfilling all the above parameters is declared the winner and is crowned "Forged in Fire Champion" with a $10,000 cash prize.
Forged In Fire Timing & Schedule with Repeat telecast Timing
| | |
| --- | --- |
| TV Channel Name | History TV18 |
| Streaming Platform | Jio TV, Airtel TV |
| Show Timings | Mon – Sun, 09:00 PM – 10:00 PM |
| Running Time | 45-50 Minutes |
| Repeat Telecast Timing | Mon – Sun, 4:42 PM – 05:34 PM |
| Starting Date | 22 June 2015 |
| Language | Hindi |
| Region | Indian |
Forged In Fire TV Show Channel Number
Forged In Fire Serial Channel Numbers on Tata Sky SD – 721
Forged In Fire Serial Channel Numbers on Tata Sky HD – 720
Forged In Fire Serial Channel Numbers on Airtel DTH SD – 432
Forged In Fire Serial Channel Numbers on Airtel DTH HD – 433
Forged In Fire Serial Channel Numbers on Dish TV SD – 820
Forged In Fire Serial Channel Numbers on Dish TV HD – 819
Forged In Fire Serial Channel Numbers on Videocon d2h – 953