Man vs. Wild Channel Number On Tata Sky, Airtel DTH, Dish TV & more
Man VS Wild is telecast Monday to Friday at 8:00pm on Sony SET India channel. The show can also be stream on the Discovery Go. Check other TV operator details –
| Name Of Operator | Channel Number |
| --- | --- |
| Tata sky SD | 714 |
| Tata sky HD | 713 |
| Airtel DTH SD | 420 |
| Airtel DTH HD | 421 |
| Dish TV SD | 803 |
| Dish TV HD | 802 |
| Videocon D2h | 441 |
| Videocon D2h HD | 441 |
| Hathway SD | 451 |
| Hathway HD | 372 |
| Asianet Digital TV | 503 |
| SUN Direct TV SD | 540 |
| SUN Direct TV HD | 951 |
| DEN SD | 144 |
| DEN HD | 153 |
| Siti Cable SD | 453 |
| Siti Cable HD | 708 |
Man VS Wild TV Serial
Many of us remember this show from our childhood, the show that gave us the courage and ways on how to survive in the most extreme conditions on Earth. The host of the show is, infamous Bear Grylls who is now a global icon. The show gained instant popularity as this brought excitement and also taught people life skills. The show first aired on 2006 on Discovery Channel and now has more than 7 seasons with 70+ episodes.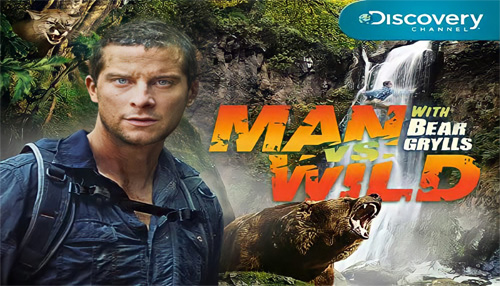 The show is about a man (here Bear Grylls) who is put into extreme weather conditions along with his filming crew who shoot the entire experience. The job of the cameraman is even tougher because he/she has to do the same things Grylls does but holding a film camera. They deserve to be appreciated.
Before each episode, Bear Grylls is given an overall briefing of the experience along with his cameraman and audio man. Each episode requires more than a week to shoot where a medic team is also always on board to avoid any health hazard. To take things further, Bear Grylls partnered with Discovery channel to release a book version of the show. The book was an instant success. Not only this, Bear Grylls has even signed other shows with Discovery Channel like Worst-case Scenario where instead of natural survival tricks, he taught urban survival skills. This show premiered in May 2010. Big names like Jake Gyllenhaal, Will Ferrell, PM Narendra Modi have had a cameo in the show Man vs Wild.
Due to some unprecedented reasons, the contract between Discovery and Bear Grylls ended in 2021. Netflix jumped and saw the opportunity, and created a unique interactive show called You vs Wild. Each episode has a runtime of 20 minutes and currently, there are 8 episodes uploaded on Netflix.
Man VS Wild Timing & Schedule with Repeat telecast Timing
| | |
| --- | --- |
| TV Channel Name | Discovery |
| Streaming Platform | Discovery Go |
| Show Timings | Mon – Fri, 8:00 PM – 9:00 PM |
| Running Time | 45-50 Minutes |
| Repeat Telecast Timing | Mon – Fri, 10:00 PM – 11:00 PM |
| Starting Date | 10 March 2006 |
| Language | Hindi |
| Region | Indian |
Man VS Wild Serial Channel Number
Man VS Wild Serial Channel Numbers on Tata Sky SD – 714
Man VS Wild Serial Channel Numbers on Tata Sky HD – 713
Man VS Wild Serial Channel Numbers on Airtel DTH SD – 420
Man VS Wild Serial Channel Numbers on Airtel DTH HD – 421
Man VS Wild Serial Channel Numbers on Dish TV SD – 803
Man VS Wild Serial Channel Numbers on Dish TV HD – 802
Man VS Wild Serial Channel Numbers on Videocon d2h – 441