Pandya Store (STAR Plus) Channel Number On Airtel DTH, Tata Sky, Dish TV & more
Pandya Store is telecast Monday to Saturday at 7:30pm on Star Plus channel. The show can also be stream on the Disney+ Hotstar. Check other TV operator details –
| Name Of Operator | Channel Number |
| --- | --- |
| Tata sky SD | 117 |
| Tata sky HD | 115 |
| Airtel DTH SD | 105 |
| Airtel DTH HD | 106 |
| Dish TV SD | 113 |
| Dish TV HD | 112 |
| Videocon D2h | 902 |
| Hathway SD | 1 |
| Hathway HD | 902 |
| Asianet Digital TV SD | 501 |
| Asianet Digital TV HD | 848 |
| SUN Direct TV SD | 113 |
| SUN Direct TV HD | 112 |
| DEN SD | 1 |
| DEN HD | 41 |
| Siti Cable SD | 202 |
| Siti Cable HD | 731 |
Pandya Store Serial Channel Number
Pandya Store Serial Channel Numbers on Tata Sky SD – 117
Pandya Store Serial Channel Numbers on Tata Sky HD – 115
Pandya Store Serial Channel Numbers on Airtel DTH SD – 105
Pandya Store Serial Channel Numbers on Airtel DTH HD – 106
Pandya Store Serial Channel Numbers on Dish TV SD – 113
Pandya Store Serial Channel Numbers on Dish TV HD – 112
Pandya Store Serial Channel Numbers on Videocon d2h – 902
Pandya Store TV Serial
"Pandya Store" is an Indian television drama that premiered on 25 January 2021 on Star Plus. The serial is written by Shilpa Chaubey and Sushil Chaubey.The directors of the serial are Pradip Yadav and Arshad Khan. The producer is Sunjoy Wadhwa, Commal Sunjoy and Wadhwa. The lead role of the serial is Kinshuk Mahajan as Gautam Pandya and Shiny Doshi as his wife, Dhara Pandya. "Pandya Store" serial is also available on Hotstar. Pandya Store shows on star plus from Monday to Saturday at 7:30 pm .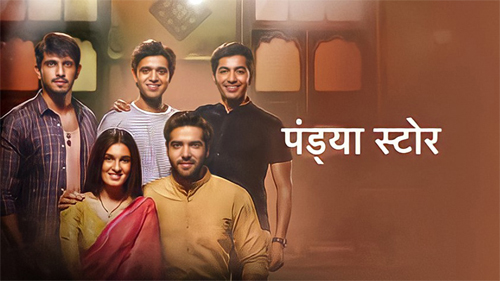 The story of the Pandya Store is about a middle-class Pandya family who runs a grocery store called Pandya Store owned by Gautam Pandya and his wife, Dhara Pandya. Gautam has 3 younger siblings whom he and Dhara treat and care for like their children. Gautam is the oldest of the Pandya brothers. His marriage is fixed with Anita, the niece of Gautam's maternal aunt (Prafulla). Anita and Prafulla have no sympathy for the Pandya family, and their only goal is to own the Pandya store. When Anita knows that the store is under the mortgage, Anita moves on with the marriage on the wedding day. She breaks up the marriage, and Gautam decides to marry Dhara.
Dhara is the sister of Gautam's friend and a kind-hearted girl. Gautam's younger brothers Dev, Krish, and Shiva welcome Dhara to the Pandya house, while Suman is against it. He later accepts Dhara as his daughter-in-law. Suman, who was paralyzed, begins to recover while Dhara and Gautam claim the Pandya store together. Pandya Store comes out of the financial crisis. Dhara and Gautam slowly fall in love with each other. Dhara decides not to start a family until he has fully established himself with his brother-in-law.
Pandya Store Timing & Schedule with Repeat telecast Timing
| | |
| --- | --- |
| TV Channel Name | Star Plus |
| Show Timings | Mon – Sat, 7:30 PM – 8:00 PM |
| Running Time | 22-25 Minutes |
| Repeat Telecast Timing | Mon – Sat, 10:00 AM – 10:30 AM |
| Starting Date | 25 January 2021 |
| Language | Hindi |
| Region | Indian |