Maddam Sir Serial (Sony SAB) Channel Number On Airtel DTH, Tata Sky, Dish TV & more
Maddam Sir Serial telecast Monday to Saturday at 7:00pm on Sony SAB channel. The show can also be stream on the Sony Liv. Check other TV operator details –
| Name Of Operator | Channel Number |
| --- | --- |
| Tata sky SD | 134 |
| Tata sky HD | 132 |
| Airtel DTH SD | 126 |
| Airtel DTH HD | 127 |
| Dish TV SD | 107 |
| Dish TV HD | 106 |
| Videocon D2h | 911 |
| Hathway SD | 6 |
| Asianet Digital TV SD | 512 |
| Asianet Digital TV HD | 853 |
| SUN Direct TV SD | 320 |
| DEN SD | 133 |
| DEN HD | 148 |
| Siti Cable SD | 211 |
| Siti Cable HD | 725 |
Maddam Sir Serial Channel Number
Maddam Sir Serial Channel Numbers on Tata Sky SD – 134
Maddam Sir Serial Channel Numbers on Tata Sky HD – 132
Maddam Sir Serial Channel Numbers on Airtel DTH SD- 126
Maddam Sir Serial Channel Numbers on Airtel DTH HD – 127
Maddam Sir Serial Channel Numbers on Dish TV SD – 107
Maddam Sir Serial Channel Numbers on Dish TV HD – 106
Maddam Sir Serial Channel Numbers on Videocon d2h – 911
Maddam Sir TV Serial
The SHO Haseena Malik as the head of the Mahila police station has four police officers working under her and the whole show revolves around them. The four officers working under Haseena Malik are the SI Karishma Singh, head constable Pushpa Singh, two constables namely Cheetah Chaturvedi and Santosh Sharma. These five lady police officers are generally helped by a criminal Billu Champat who has turned himself into a spy and is working for the police now.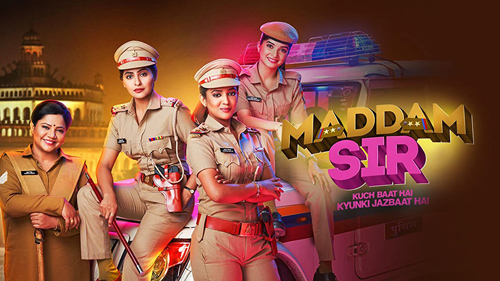 Karishma Singh is a lady with anger on her nose and Haseena Malik is a lady with an emotional heart, which is the cause of many small fights between them during an investigation. Despite all the quarrels Karishma Singh and Haseena Malik respected each other and soon Karishma started looking at Haseena as her sister and was protective towards her.
They worked together to solve numerous cases, but when their ideological differences became too much for them to handle, they both attempted to seek a transfer from the Thana. Looking at the situation between Haseena and Karishma, DSP Anubhav Singh, elder brother of Karishma Singh decides to solve the matter and teach them the importance of teamwork, and Anubhav successfully solves the quarrel between the two heads of the Mahila police station.
Later Haseena and Anubhav start falling for each other. After sorting everything all the officers at Mahila Police station start working once again and keep on solving some hilarious cases with determination and love for the country. The police station attempts to work and restore the faith and hopes of those who believe in it, with the help of its intelligent officers.
Maddam Sir Timing & Schedule with Repeat telecast Timing
| | |
| --- | --- |
| TV Channel Name | Sony SAB |
| Show Timings | Mon – Fri, 7:00 PM – 7:30 PM |
| Running Time | 22-25 Minutes |
| Repeat Telecast Timing | Mon – Fri, 1:00 PM – 1:24 PM |
| Starting Date | 24 February 2020 |
| Language | Hindi |
| Region | Indian |