Sasural Simar Ka 2 Channel Number On Airtel DTH, Tata Sky, Dish TV & more
Sasural Simar Ka 2 is telecast Monday to Friday at 6:30pm on Colors TV channel. The show can also be stream on the Voot. Check other TV operator details –
| Name Of Operator | Channel Number |
| --- | --- |
| Tata sky SD | 149 |
| Tata sky HD | 147 |
| Airtel DTH SD | 116 |
| Airtel DTH HD | 117 |
| Dish TV SD | 121 |
| Dish TV HD | 120 |
| Videocon D2h | 904 |
| Hathway SD | 4 |
| Hathway HD | 337 |
| Asianet Digital TV SD | 502 |
| SUN Direct TV SD | 304 |
| SUN Direct TV HD | 870 |
| GTPL | 2 |
| DEN SD | 176 |
| DEN HD | 216 |
| Siti Cable SD | 203 |
| Siti Cable HD | 730 |
Sasural Simar Ka 2 Serial Channel Number
Sasural Simar Ka 2 Serial Channel Numbers on Tata Sky SD – 149
Sasural Simar Ka 2 Serial Channel Numbers on Tata Sky HD – 147
Sasural Simar Ka 2 Serial Channel Numbers on Airtel DTH SD – 116
Sasural Simar Ka 2 Serial Channel Numbers on Airtel DTH HD – 117
Sasural Simar Ka 2 Serial Channel Numbers on Dish TV SD – 121
Sasural Simar Ka 2 Serial Channel Numbers on Dish TV HD – 120
Sasural Simar Ka 2 Serial Channel Numbers on Videocon d2h – 904
Sasural Simar Ka 2 TV Serial
"Sasural Simar Ka 2" is a popular Indian television drama series that started on 26th April 2021 on Colors TV. Jay Verma writes this series. Yash Sinha directs the show. The producer of Sasural Simar Ka 2 is Rashmi Sharma and Pawan Kumar Marut. Radhika Muthukumar plays the lead roles of this drama series as Simar Narayan, Avinash Mukherjee as Aarav Oswal, Tanya Sharma as Reema Narayan, and Karan Sharma Vivaan Oswal. The rating of this series is 6/10 in IMBD. The number of episodes till now is 135. This series is a successor of one of the most popular series Sasural Simar Ka.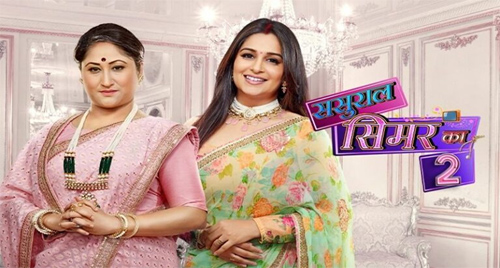 The story starts with Simar (Dipika Kakkar), where she was asked to find perfect brides for Gitanjali Devi's (Jayanti Bhatia) grandsons. Simar (Dipika) chooses little Simar (Radhika), a sweet and lovable girl, for Aarav's wife. But Aarav already fell in love with Simar's elder sister Reema and the family decided to tie the knot. On the other hand, Karan also falls for Reema. On the wedding day, Reema leaves the ceremony to fulfill her dreams of becoming a model, resulting in Aarav's and Simar's marriage. Later, Reema and Vivaan get married, and Aarav falls for Simar. Simar dreams of being a singer, but Badi Maa hates music. The twist is Badi Maa (Gitanjali Devi) doesn't like the two sisters and plays tricks against them and their families.
The story is about how the Narayan sisters make their position in the Oswal family with love and how they overcome the challenges in the family.
Sasural Simar Ka 2 Timing & Schedule with Repeat telecast Timing
| | |
| --- | --- |
| TV Channel Name | Colors TV |
| Streaming Platform | Voot |
| Show Timings | Mon – Fri, 6:30 PM – 7:00 PM |
| Running Time | 22-25 Minutes |
| Repeat Telecast Timing | Mon – Fri, 1:00 PM – 1:30 PM |
| Starting Date | 26 April 2021 |
| Language | Hindi |
| Region | Indian |