Barrister Babu Channel Number On Tata Sky, Airtel DTH, Dish TV & more
Barrister Babu is telecast Monday to Friday at 8:30pm on Colors TV channel. The show can also be stream on the Voot. Check other TV operator details –
| Name Of Operator | Channel Number |
| --- | --- |
| Tata sky SD | 149 |
| Tata sky HD | 147 |
| Airtel DTH SD | 116 |
| Airtel DTH HD | 117 |
| Dish TV SD | 121 |
| Dish TV HD | 120 |
| Videocon D2h | 904 |
| Hathway SD | 4 |
| Hathway HD | 337 |
| Asianet Digital TV SD | 502 |
| SUN Direct TV SD | 304 |
| SUN Direct TV HD | 870 |
| GTPL | 2 |
| DEN SD | 176 |
| DEN HD | 216 |
| Siti Cable SD | 203 |
| Siti Cable HD | 730 |
Barrister Babu Serial Channel Number
Barrister Babu Serial Channel Numbers on Tata Sky SD – 149
Barrister Babu Serial Channel Numbers on Tata Sky HD – 147
Barrister Babu Serial Channel Numbers on Airtel DTH SD – 116
Barrister Babu Serial Channel Numbers on Airtel DTH HD – 117
Barrister Babu Serial Channel Numbers on Dish TV SD – 121
Barrister Babu Serial Channel Numbers on Dish TV HD – 120
Barrister Babu Serial Channel Numbers on Videocon d2h – 904
Barrister Babu TV Serial
"Barrister Babu" is an Indian television drama series that started on 11th February 2020 on Colors TV. This series is written by Shashi Sumeet Mittal, Sumeet Hukamchand Mittal, Vaishali Naik and Seema Mantri. Mangesh Kanthale directs this serial. This popular television series is Shashi Sumeet Mittal, Sumeet Hukamchand Mittal, Animesh Bandyopadhyay, Gita Pandey Desai Bandyopadhyay, i.e. by Shashi Sumeet Productions. Pravisht Mishra plays the lead roles of the serial as Barrister Anirudh Roy Choudhary, Aurra Bhatnagar Badoni as Young Bondita and Anchal Sahu as adult bond. The ratings of this television series Barrister Babu is 8.2/10 in IMDb.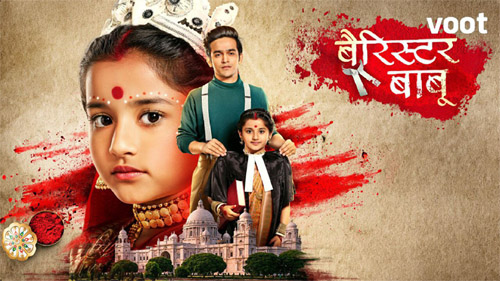 The story starts with Bondita (Aurra Bhatnagar Badoni), an 8-year-old girl who loves to question unjustified social traditions. This series is based during the independence era. She and her widow mother live in her uncle's house. Bondi's and her cousin, Sampoorna marriage gets fixed. Bondi's uncle sets her marriage with an older man. Sampoorna's marriage gets fixed with a young and same-aged guy, Saurabh. Both the girls wedding takes place on the same day, but Bondi's husband dies while performing the marriage rituals. Thus, Bondita was forced to become sati. Saurabh's Friend Anirudha, a lawyer, decides to marry bondita, and as a result, Bondita becomes a child bride. Anirudh wants Bondita to become a Lawyer and fights against society so that Bondita can complete her studies despite being married. The story leaps, and Bondita (Anchal Sahu) is now a lawyer, but circumstances separate Bondita and Anirudh.
The story is about the journey of a child bride of being a lawyer and how she manages to be with Anirudh after facing all the challenges.
Barrister Babu Timing & Schedule with Repeat telecast Timing
| | |
| --- | --- |
| TV Channel Name | Colors TV |
| Streaming Platform | Voot |
| Show Timings | Mon – Fri, 8:30 PM – 9:00 PM |
| Running Time | 22-25 Minutes |
| Repeat Telecast Timing | Mon – Fri, 7:00 AM – 7:30 AM |
| Starting Date | 11 February 2020 |
| Language | Hindi |
| Region | Indian |