Ghum Hai Kisikey Pyaar Meiin Channel Number On Airtel DTH, Tata Sky, Dish TV & more
Ghum Hai Kisikey Pyaar Meiin is telecast Monday to Friday at 8:00pm on Star Plus channel. The show can also be stream on the Disney+ Hotstar. Check other TV operator details –
| Name Of Operator | Channel Number |
| --- | --- |
| Tata sky SD | 117 |
| Tata sky HD | 115 |
| Airtel DTH SD | 105 |
| Airtel DTH HD | 106 |
| Dish TV SD | 113 |
| Dish TV HD | 112 |
| Videocon D2h | 902 |
| Hathway SD | 1 |
| Hathway HD | 902 |
| Asianet Digital TV SD | 501 |
| Asianet Digital TV HD | 848 |
| SUN Direct TV SD | 113 |
| SUN Direct TV HD | 112 |
| DEN SD | 1 |
| DEN HD | 41 |
| Siti Cable SD | 202 |
| Siti Cable HD | 731 |
Ghum Hai Kisikey Pyaar Meiin Serial Channel Number
Ghum Hai Kisikey Pyaar Meiin Serial Channel Numbers on Tata Sky SD – 117
Ghum Hai Kisikey Pyaar Meiin Serial Channel Numbers on Tata Sky HD – 115
Ghum Hai Kisikey Pyaar Meiin Serial Channel Numbers on Airtel DTH SD – 105
Ghum Hai Kisikey Pyaar Meiin Serial Channel Numbers on Airtel DTH HD – 106
Ghum Hai Kisikey Pyaar Meiin Serial Channel Numbers on Dish TV SD – 113
Ghum Hai Kisikey Pyaar Meiin Serial Channel Numbers on Dish TV HD – 112
Ghum Hai Kisikey Pyaar Meiin Serial Channel Numbers on Videocon d2h – 902
Ghum Hai Kisikey Pyaar Meiin TV Serial
"Ghum Hai Kisikey Pyaar Mein" is a television drama series that started on 5th October 2020 on Star Plus. This serial also has a Bengali remake, known as "Kusum Dola," on star jalsa. Rajesh Chawla writes this series. This serial is directed by Jaydeep Sen. Ranjeet Gupta and Ashwini Saraswat. The producer of Ghum Hai Kisikey Pyaar Mein is Pradeep Kumar, Rajesh Ram Singh, Pia Bajpiee, and Shaika Parween. Ayesha Singh plays the lead roles of the serial Sai Joshi, Neil Bhatt as Virat Chavan, and Aishwarya Sharma as Pakhi. The rating of this series is 35.6/ 10 in IMBD. The number of episodes till now is 305.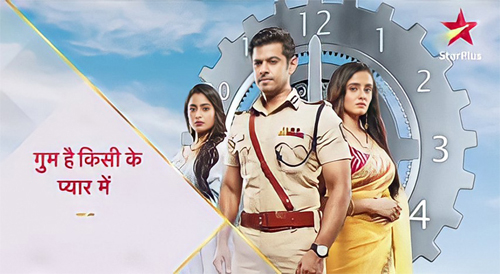 The story revolves around Sai (Ayesha Singh) and Virat (Neil Bhatt). Sai wants to be a doctor and Virat an I.P.S officer. Virat falls in love with Pakhi (Aishwariya Sharma) and falls for each other. On the other hand, Pakhi gets married to Virat's brother Samrat. Samrat overhears the conversation between and Virat and Pakhi and comes to know the truth. Samrat left the house heartbroken.
Sai's father takes the bullet shot while saving Virat. Virat promises Sai's father to take care of Sai, and the situation results in their marriage. But Virat tells Sai not to expect anything from this relationship. Pakhi can't tolerate Sai and Virat together, and thus she conspires.
The story is about how Sai manages her studies to become a doctor and the responsibilities of being a daughter-in-law of the Chavan's and how both Virat and Sai get emotionally attached.
Ghum Hai Kisikey Pyaar Meiin Timing & Schedule with Repeat telecast Timing
| | |
| --- | --- |
| TV Channel Name | Star Plus |
| Show Timings | Mon – Fri, 8:00 PM – 8:30 PM |
| Running Time | 22-25 Minutes |
| Starting Date | 5 October 2020 |
| Repeat Telecast Timing | Mon – Fri, 11:30 PM – 12:00 PM |
| Language | Hindi |
| Region | Indian |