Mehndi Hai Rachne Waali Channel Number On Airtel DTH, Tata Sky, Dish TV & more
Mehndi Hai Rachne Waali is telecast Monday to Saturday at 6:30pm on Star Plus channel. The show can also be stream on the Disney+ Hotstar. Check other TV operator details –
| Name Of Operator | Channel Number |
| --- | --- |
| Tata sky SD | 117 |
| Tata sky HD | 115 |
| Airtel DTH SD | 105 |
| Airtel DTH HD | 106 |
| Dish TV SD | 113 |
| Dish TV HD | 112 |
| Videocon D2h | 902 |
| Hathway SD | 1 |
| Hathway HD | 902 |
| Asianet Digital TV SD | 501 |
| Asianet Digital TV HD | 848 |
| SUN Direct TV SD | 113 |
| SUN Direct TV HD | 112 |
| DEN SD | 1 |
| DEN HD | 41 |
| Siti Cable SD | 202 |
| Siti Cable HD | 731 |
Mehndi Hai Rachne Waali Serial Channel Number
Mehndi Hai Rachne Waali Serial Channel Numbers on Tata Sky SD – 117
Mehndi Hai Rachne Waali Serial Channel Numbers on Tata Sky HD – 115
Mehndi Hai Rachne Waali Serial Channel Numbers on Airtel DTH SD – 105
Mehndi Hai Rachne Waali Serial Channel Numbers on Airtel DTH HD – 106
Mehndi Hai Rachne Waali Serial Channel Numbers on Dish TV SD – 113
Mehndi Hai Rachne Waali Serial Channel Numbers on Dish TV HD – 112
Mehndi Hai Rachne Waali Serial Channel Numbers on Videocon d2h – 902
Mehndi Hai Rachne Waali TV Serial
"Mehndi Hai Rachne Waali" is a popular Indian television drama series that started on 15 February 2021 on a popular channel, star plus. This series is written by Sonali Gupta Shrivastav and is directed by Hemant R Prabhu, Jignesh Vaishnav, and Rohit Phulkari. The producer of the serial is Fazila Allana,Sandiip Sikcand and Kamna Menezes. Mehndi Hai Rachne Waali series is based on Star Maa's Telugu series Gorintaku, a popular series. The lead character is played by Shivangi Khedkar as Pallavi Deshmukh and Sai Ketan Rao as Raghav Rao.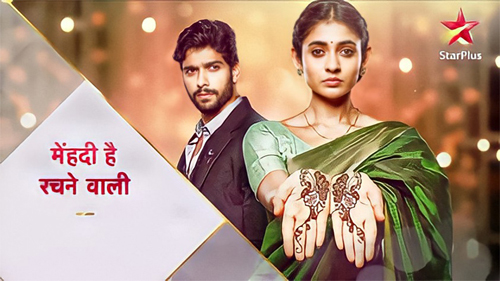 Mehndi Hai Rachne Waali" Based on the backdrop of Hyderabad. Mehandi hai rachne waali is a story about how two completely different people come together and fall in love with each other. Pallavi Deshmukh (Shivangi Khedkar ) is a widow. She is much more than what seems to be. She lives with her in-laws happily and is very close to them even after the death of his husband.
Raghav Rao is a businessman and owner of Jayanti Jewels. He's an introvert, and it's all about the money. One day these opposites meet. But they hate each other, but they get married because of responsibility and oath, and things soon start to fall into place, and they fall in love. However, their luck looks terrible when it turns out that their ex-husband is alive and has once again back to ruin the new wedding life.
Mehndi Hai Rachne Waali Timing & Schedule with Repeat telecast Timing
| | |
| --- | --- |
| TV Channel Name | Star Plus |
| Show Timings | Mon – Sat, 6:30 PM – 7:00 PM |
| Running Time | 22-25 Minutes |
| Starting Date | 15 February 2021 |
| Language | Hindi |
| Region | Indian |