Kumkum Bhagya Channel Number On Airtel DTH, Tata Sky, Dish TV & more
Kumkum Bhagya is telecast Monday to Friday at 9:00pm on Zee TV channel. The show can also be stream on the ZEE5. Check other TV operator details –
| Name Of Operator | Channel Number |
| --- | --- |
| Tata sky SD | 143 |
| Tata sky HD | 141 |
| Airtel DTH SD | 108 |
| Airtel DTH HD | 109 |
| Dish TV SD | 111 |
| Dish TV HD | 110 |
| Videocon D2h | 903 |
| Hathway SD | 2 |
| Hathway HD | 335 |
| Asianet Digital TV SD | 514 |
| Asianet Digital TV HD | 854 |
| SUN Direct TV SD | 308 |
| SUN Direct TV HD | 876 |
| DEN SD | 66 |
| DEN HD | 108 |
| Siti Cable SD | 201 |
| Siti Cable HD | 732 |
Kumkum Bhagya Serial Channel Number
Kumkum Bhagya Serial Channel Numbers on Tata Sky SD – 143
Kumkum Bhagya Serial Channel Numbers on Tata Sky HD – 141
Kumkum Bhagya Serial Channel Numbers on Airtel DTH SD- 108
Kumkum Bhagya Serial Channel Numbers on Airtel DTH HD – 109
Kumkum Bhagya Serial Channel Numbers on Dish TV SD – 111
Kumkum Bhagya Serial Channel Numbers on Dish TV HD – 110
Kumkum Bhagya Serial Channel Numbers on Videocon d2h – 903
Kumkum Bhagya TV Serial
Pragya Arora, a modest teacher, and Abhishek Mehra, a rock star, are the protagonists of the narrative. Sarla Arora manages a bridal hall and dreams of seeing her two children married blissfully. Pragya, the eldest daughter, is a realistic, diligent college professor. The younger daughter, the Bulbul, is extroverted and has her head in the clouds. The drama revolves around the lives of two sisters, their goals, dreams, and ambitions.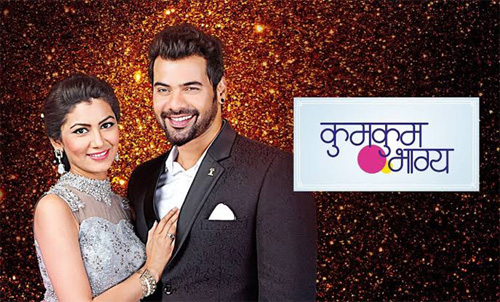 Pragya, the eldest daughter, is a diligent worker who is very realistic. She is a college professor. Sarla's second daughter is a dreamer, with her head in the clouds at all times. She has a job as well, but she despises her employer, Purab.
The TV show's plot revolves around the lives of these two girls, their dreams, desires, and aspirations. A love triangle develops between Suresh, Bulbul, and Pragya towards the start of the play. Suresh had a thing for Pragya, and he had a thing for Bulbul. Suresh and Pragya are engaged, however, the engagement is called off.
Then there's Abhi, a buddy of Purab's who also happens to be a rock star. Even though Bulbul and Purab were formerly enemies, their lives have taken such unexpected twists that they have come to terms with each other. Purab and Aliya are already engaged.
Kumkum Bhagya Timing & Schedule with Repeat telecast Timing
| | |
| --- | --- |
| TV Channel Name | Zee TV |
| Show Timings | Mon – Fri, 9:00 PM – 9:30 PM |
| Running Time | 22-25 Minutes |
| Repeat Telecast Timing | Mon – Fri, 12:30 PM – 1:00 PM |
| Starting Date | 15 April 2014 |
| Language | Hindi |
| Region | Indian |