Udaariyaan (Colors) Channel Number On Airtel DTH, Tata Sky, Dish TV & more
Udaariyaan is telecast Monday to Friday at 7:00pm on Colors TV channel. The show can also be stream on the Voot. Check other TV operator details –
| Name Of Operator | Channel Number |
| --- | --- |
| Tata sky SD | 149 |
| Tata sky HD | 147 |
| Airtel DTH SD | 116 |
| Airtel DTH HD | 117 |
| Dish TV SD | 121 |
| Dish TV HD | 120 |
| Videocon D2h | 904 |
| Hathway SD | 4 |
| Hathway HD | 337 |
| Asianet Digital TV SD | 502 |
| SUN Direct TV SD | 304 |
| SUN Direct TV HD | 870 |
| GTPL | 2 |
| DEN SD | 176 |
| DEN HD | 216 |
| Siti Cable SD | 203 |
| Siti Cable HD | 730 |
Udaariyaan Serial Channel Number
Udaariyaan Serial Channel Numbers on Tata Sky SD – 149
Udaariyaan Serial Channel Numbers on Tata Sky HD – 147
Udaariyaan Serial Channel Numbers on Airtel DTH SD – 116
Udaariyaan Serial Channel Numbers on Airtel DTH HD – 117
Udaariyaan Serial Channel Numbers on Dish TV SD – 121
Udaariyaan Serial Channel Numbers on Dish TV HD – 120
Udaariyaan Serial Channel Numbers on Videocon d2h – 904
Udaariyaan TV Serial
"Udaariyaan" is a popular Indian television drama series that started on 15th March 2021 on Colors TV. This series is a story by Mitali Bhattacharya and Romit Ojha. Uttam Alhawat directs this serial. The producer of Udaariyaan is Sargun Mehta and Ravi Dubey. Ankit Gupta plays the lead roles of the serial Fateh Singh Virk, Priyanka Choudhary as Tejo Kaur Sandhu, and Isha Malviya as Jasmin Kaur Sandhu. The rating of this series is 4/ 10 in IMBD.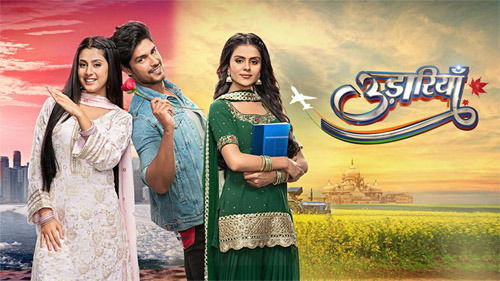 The story revolves around three persons, Fateh, Tejo, and Jasmin, and thus creates a story of a love triangle. Sandhu's family, except for Tejo, dreams of visiting Canada one day. Despite the dreams of the family, Tejo wants to settle in Punjab. On the other hand, Fateh, a boxer, and his father, an MLA, who works for the development of their mind, want to bring medals for the state. Fateh and Jasmin fell in love with each other and decided to tie the knot because Fateh would take her to Canada. On their wedding day, Jasmin knows that Fateh lost his job in Canada and thus refuses to marry him. Under the pressure of the family, Fateh and Tejo get married.
Jasmin realizes her mistake and wants Fateh back in her life and thus executes evil plans against Tejo. Llater, Fateh has extramarital affairs with Jasmin. Tejo comes to know the truth, and she remains heartbroken. The story is about the love incidents that take place among them.
Udaariyaan Timing & Schedule with Repeat telecast Timing
| | |
| --- | --- |
| TV Channel Name | Colors TV |
| Streaming Platform | Voot |
| Show Timings | Mon – Fri, 7:00 PM – 7:30 PM |
| Running Time | 22-25 Minutes |
| Repeat Telecast Timing | Mon – Fri, 11:30 AM – 12:30 PM |
| Starting Date | 15 March 2021 |
| Language | Hindi |
| Region | Indian |