Molkki (Colors) Channel Number On Tata Sky, Airtel DTH, Dish TV & more
Molkki is telecast Monday to Friday at 10:00pm on Colors TV channel. The show can also be stream on the Voot. Check other TV operator details –
| Name Of Operator | Channel Number |
| --- | --- |
| Tata sky SD | 149 |
| Tata sky HD | 147 |
| Airtel DTH SD | 116 |
| Airtel DTH HD | 117 |
| Dish TV SD | 121 |
| Dish TV HD | 120 |
| Videocon D2h | 904 |
| Hathway SD | 4 |
| Hathway HD | 337 |
| Asianet Digital TV SD | 502 |
| SUN Direct TV SD | 304 |
| SUN Direct TV HD | 870 |
| GTPL | 2 |
| DEN SD | 176 |
| DEN HD | 216 |
| Siti Cable SD | 203 |
| Siti Cable HD | 730 |
Molkki Serial Channel Number
Molkki Serial Channel Numbers on Tata Sky SD – 149
Molkki Serial Channel Numbers on Tata Sky HD – 147
Molkki Serial Channel Numbers on Airtel DTH SD – 116
Molkki Serial Channel Numbers on Airtel DTH HD – 117
Molkki Serial Channel Numbers on Dish TV SD – 121
Molkki Serial Channel Numbers on Dish TV HD – 120
Molkki Serial Channel Numbers on Videocon d2h – 904
Molkki TV Serial
"Molki" is an Indian television drama series that started on 23rd august 2021 on Colors TV. This series is written by Dhiraj Sharma. This serial is directed by Muzammil Desai. The producer of this popular television series is Ekta Kapoor and Shobha Kapoor i.e by Balaji Telefilms. The lead roles of the serial are played by Priyal Mahajan as Purvi Virendra Pratap Singh and Amar Upadhyay as Virendra Pratap Singh. The ratings of this television series Molki is 5.2/10 in IMDb.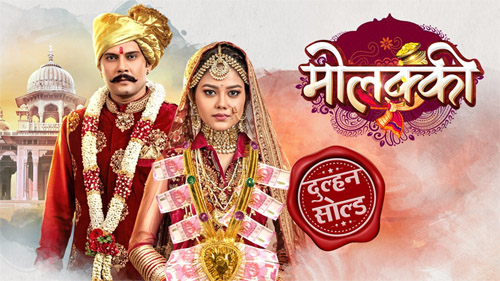 The story starts with a young girl Purvi (Priyal Mahajan) who becomes the Molki (a bride whose family receives money marriage) of Virendra (Amar Upadhyay). Virendra who is double the age of Purvi and is a father of 4 children is a widower. Purvi, who is against the ritual of Molki becomes a Molki. As gradually Virendra started loving Purvi, his wife Sakshi (Toral Rasputra) returns. His wife was actually not dead but was captured and kept hidden by Virendra's Stepmother. Sakshi realizes Purvi and Virendra's love for each other and she decides to leave. Later a misunderstanding takes place and they get separated. Purvi meets with an accident and she lost her memory. The story takes a leap and Purvi was about to marry Vipul ( Ankit Gera). She recalls her memory and gets back to Virendra's life.
The story is about how Purvi, a Molki manages the odd situations of her life and loving the relationship which has a huge age gap.
Molkki Timing & Schedule with Repeat telecast Timing
| | |
| --- | --- |
| TV Channel Name | Colors TV |
| Streaming Platform | Voot |
| Show Timings | Mon – Fri, 10:00 PM – 10:30 PM |
| Running Time | 22-25 Minutes |
| Repeat Telecast Timing | Mon – Fri, 8:30 AM – 9:00 AM |
| Starting Date | 16 November 2020 |
| Language | Hindi |
| Region | Indian |