Nima Denzongpa Channel Number On Tata Sky, Airtel DTH, Dish TV & more
Nima Denzongpa is telecast Monday to Friday at 9:00pm on Colors TV channel. The show can also be stream on the Voot. Check other TV operator details –
| Name Of Operator | Channel Number |
| --- | --- |
| Tata sky SD | 149 |
| Tata sky HD | 147 |
| Airtel DTH SD | 116 |
| Airtel DTH HD | 117 |
| Dish TV SD | 121 |
| Dish TV HD | 120 |
| Videocon D2h | 904 |
| Hathway SD | 4 |
| Hathway HD | 337 |
| Asianet Digital TV SD | 502 |
| SUN Direct TV SD | 304 |
| SUN Direct TV HD | 870 |
| GTPL | 2 |
| DEN SD | 176 |
| DEN HD | 216 |
| Siti Cable SD | 203 |
| Siti Cable HD | 730 |
Nima Denzongpa Serial Channel Number
Nima Denzongpa Serial Channel Numbers on Tata Sky SD – 149
Nima Denzongpa Serial Channel Numbers on Tata Sky HD – 147
Nima Denzongpa Serial Channel Numbers on Airtel DTH SD – 116
Nima Denzongpa Serial Channel Numbers on Airtel DTH HD – 117
Nima Denzongpa Serial Channel Numbers on Dish TV SD – 121
Nima Denzongpa Serial Channel Numbers on Dish TV HD – 120
Nima Denzongpa Serial Channel Numbers on Videocon d2h – 904
Nima Denzongpa TV Serial
"Nima Denzongpa "is a popular Indian television drama series shown on colours Tv from Mon- Fri at 9 pm. It is also shown on a digital platform, which is known as Voot. The writer of the serial is Anantika, producer are Alind Srivastava and Nisaar Parvej. The director is Taranvir Singh. The show was started on 26 august 2021. The number of episodes it completed till now is 27 and currently running on season 1. The main role of the serial is Surabhi Das as Neema Denzongpa and Akshay Kelkar as Suresh Kumar.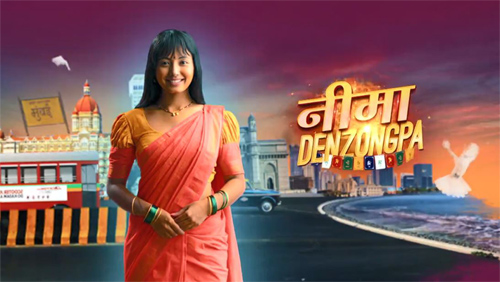 The story is about Nima Denzongpa, who is a young, friendly and innocent girl from Sikkim. Suresh Kumar is a young man who visits Sikkim from Mumbai to shoot work with his manager, and within two months, Nima and Suresh fall in love and make a strong bond with each other. One day before his departure, Suresh asked Nima to accompany him to Mumbai and marry him, but Nima got confused as she had to choose between love and family.
However, her mother finds out the truth and comforts her by telling her that Nima is making a decision and is going to Mumbai with Suresh. When they get there, Suresh asks Nima to stay with her friend for the time being, and Nima faces many insults from Suresh's friend's wife in Mumbai. Suresh's friend slowly begins to desire Nima. Suresh returns home and is surprised that his mother, Sunita, has already arranged a relationship for him. Even so, Suresh managed to marry Nima in court. Sunita later pretends to accept Nima as her daughter-in-law and save her reputation in front of the colony.
Nima Denzongpa Timing & Schedule with Repeat telecast Timing
| | |
| --- | --- |
| TV Channel Name | Colors TV |
| Streaming Platform | Voot |
| Show Timings | Mon – Fri, 9:00 PM – 9:30 PM |
| Running Time | 22-25 Minutes |
| Repeat Telecast Timing | Mon – Fri, 10:00 AM – 10:30 AM |
| Starting Date | 23 August 2021 |
| Language | Hindi |
| Region | Indian |