Balika Vadhu 2 Channel Number On Tata Sky, Airtel DTH, Dish TV & more
Balika Vadhu 2 is telecast Monday to Friday at 8:00pm on Colors TV channel. The show can also be stream on the Voot. Check other TV operator details –
| Name Of Operator | Channel Number |
| --- | --- |
| Tata sky SD | 149 |
| Tata sky HD | 147 |
| Airtel DTH SD | 116 |
| Airtel DTH HD | 117 |
| Dish TV SD | 121 |
| Dish TV HD | 120 |
| Videocon D2h | 904 |
| Hathway SD | 4 |
| Hathway HD | 337 |
| Asianet Digital TV SD | 502 |
| SUN Direct TV SD | 304 |
| SUN Direct TV HD | 870 |
| GTPL | 2 |
| DEN SD | 176 |
| DEN HD | 216 |
| Siti Cable SD | 203 |
| Siti Cable HD | 730 |
Balika Vadhu 2 Serial Channel Number
Balika Vadhu 2 Serial Channel Numbers on Tata Sky SD – 149
Balika Vadhu 2 Serial Channel Numbers on Tata Sky HD – 147
Balika Vadhu 2 Serial Channel Numbers on Airtel DTH SD – 116
Balika Vadhu 2 Serial Channel Numbers on Airtel DTH HD – 117
Balika Vadhu 2 Serial Channel Numbers on Dish TV SD – 121
Balika Vadhu 2 Serial Channel Numbers on Dish TV HD – 120
Balika Vadhu 2 Serial Channel Numbers on Videocon d2h – 904
Balika Vadhu 2 TV Serial
"Balika Vadhu 2" is an Indian television drama series that started on 9th august 2021 on Colors TV. This series is written by Purnendu Shekhar, Gajra Kothari, Usha Dikshit, and Rajesh Dubey. This serial is directed by Sidharth Sengupta And Pradeep Yadav. The producer of this popular television series is Sunjoy Wadhwa and Comall Sunjoy W. The lead roles of the serial are played by Vansh Sayani as Jigar and Shreya Patel as Anandi. The Audience rating summary of this series is 4.2/5.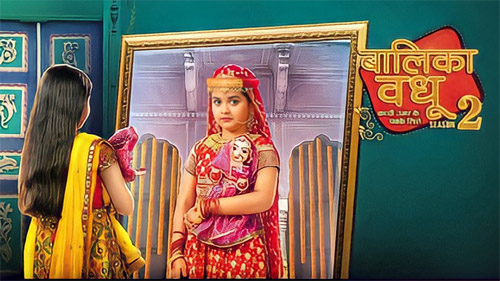 The story revolves around Anandi (Shreya Patel) and her child marriage in the village of Gujrat. Before Anandi's birth, Anandi's father decides her marriage with his best friend's (Premji) son, Jigar (Vansh Sayani). Thus, these two get bonded by child marriage illegally. The series takes a leap of 8 years and there comes the twist of Anandi's coming to Premji's house as a bride. Now, Jigar is 13 years old, who knows about his marriage with Anandi. Anandi is now 8 years old, a girl who loves going to school and play games. Diwali, Premji's sister makes Anandi's life difficult in the house.
The story is about Anandi's life, a child bride, and how she faces all the difficulties against society and the orthodox family members.
Balika Vadhu 2 Timing & Schedule with Repeat telecast Timing
| | |
| --- | --- |
| TV Channel Name | Colors TV |
| Streaming Platform | Voot |
| Show Timings | Mon – Fri, 8:00 PM – 8:30 PM |
| Running Time | 22-25 Minutes |
| Repeat Telecast Timing | Mon – Fri, 11:00 PM – 11:30 AM |
| Starting Date | 9 August 2021 |
| Language | Hindi |
| Region | Indian |