Saath Nibhaana Saathiya 2 Channel Number On Airtel DTH, Tata Sky, Dish TV & more
Saath Nibhaana Saathiya 2 is telecast Monday to Friday at 9:00pm on Star Plus channel. The show can also be stream on the Disney+ Hotstar. Check other TV operator details –
| Name Of Operator | Channel Number |
| --- | --- |
| Tata sky SD | 117 |
| Tata sky HD | 115 |
| Airtel DTH SD | 105 |
| Airtel DTH HD | 106 |
| Dish TV SD | 113 |
| Dish TV HD | 112 |
| Videocon D2h | 902 |
| Hathway SD | 1 |
| Hathway HD | 902 |
| Asianet Digital TV SD | 501 |
| Asianet Digital TV HD | 848 |
| SUN Direct TV SD | 113 |
| SUN Direct TV HD | 112 |
| DEN SD | 1 |
| DEN HD | 41 |
| Siti Cable SD | 202 |
| Siti Cable HD | 731 |
Saath Nibhaana Saathiya 2 Serial Channel Number
Saath Nibhaana Saathiya 2 Serial Channel Numbers on Tata Sky SD – 117
Saath Nibhaana Saathiya 2 Serial Channel Numbers on Tata Sky HD – 115
Saath Nibhaana Saathiya 2 Serial Channel Numbers on Airtel DTH SD – 105
Saath Nibhaana Saathiya 2 Serial Channel Numbers on Airtel DTH HD – 106
Saath Nibhaana Saathiya 2 Serial Channel Numbers on Dish TV SD – 113
Saath Nibhaana Saathiya 2 Serial Channel Numbers on Dish TV HD – 112
Saath Nibhaana Saathiya 2 Serial Channel Numbers on Videocon d2h – 902
Saath Nibhaana Saathiya 2 TV Serial
"Saath Nibhaana Saathiya 2" is a indian television drama series that started on 19 October 2020 on Star Plus. This serial also has a Bengali remake, "Ke Apon Ke Por," on star jalsa. This series is written by Garima Deemri, Nikita Dhond, Abhijeet Sinha, Tanya Sinha, Abhijeet Guru, and Rekha Modi. Pawan Kumar and Pawan Sahu direct this serial. The producer of Saath Nibhaana Saathiya 2 is Rashmi Sharma. This serial opens with the theme of Saath Nibhaana Saathiya season 1. Sneha Jain plays the lead role of the serial Gehna Desai and Harsh Nagar as Anant Desai. The rating of this series is 3.1/ 10 in IMBD. The number of episodes till now is 296.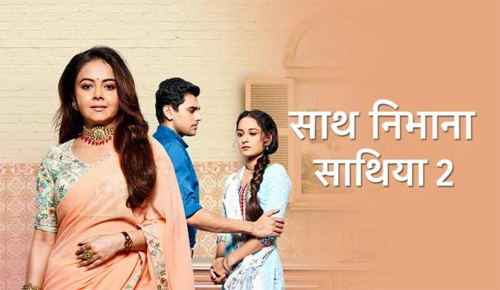 The story begins with a young girl Gehna ( Sneha Jain), who works as a house help in the Desai family in Surat. Except for Praful Desai and Jamana Desai, everyone misbehaves with her. Despite all the ill-treatment, she is kind and caring towards the family. The story starts with Kokila Modi, who visits her brother's house, Gopi, her daughter-in-law. Gehna comes to know that Gopi's husband, Ahem Modi is still alive and reunites them.
Anant, the youngest son of Praful Desai, returns from the US after his studies. He comes to know about his brothers and sister-in-law's intentions about acquiring his father's property. On the other, Gehna's fiancé is cheating her, and the situation forces Gehna and Anant to marry. Anant, who already had a girlfriend, compromises his relationship with Gehna. The story is about how Gehna faces all odds against Desai Family and is humble and kind to enemies.
Saath Nibhaana Saathiya 2 Timing & Schedule with Repeat telecast Timing
| | |
| --- | --- |
| TV Channel Name | Star Plus |
| Show Timings | Mon – Fri, 9:00 PM – 9:30 PM |
| Running Time | 22-25 Minutes |
| Starting Date | 19 October 2020 |
| Language | Hindi |
| Region | Indian |