Imlie Serial (STAR Plus) Channel Number On Airtel DTH, Tata Sky, Dish TV & more
Imlie is telecast Monday to Saturday at 08:30pm on Star Plus channel. The show can also be stream on the Disney+ Hotstar. Check other TV operator details –
| Name Of Operator | Channel Number |
| --- | --- |
| Tata sky SD | 117 |
| Tata sky HD | 115 |
| Airtel DTH SD | 105 |
| Airtel DTH HD | 106 |
| Dish TV SD | 113 |
| Dish TV HD | 112 |
| Videocon D2h | 902 |
| Hathway SD | 1 |
| Hathway HD | 902 |
| Asianet Digital TV SD | 501 |
| Asianet Digital TV HD | 848 |
| SUN Direct TV SD | 113 |
| SUN Direct TV HD | 112 |
| DEN SD | 1 |
| DEN HD | 41 |
| Siti Cable SD | 202 |
| Siti Cable HD | 731 |
Imlie Serial Channel Number
Imlie Serial Channel Numbers on Tata Sky SD – 117
Imlie Serial Channel Numbers on Tata Sky HD – 115
Imlie Serial Channel Numbers on Airtel DTH SD – 105
Imlie Serial Channel Numbers on Airtel DTH HD – 106
Imlie Serial Channel Numbers on Dish TV SD – 113
Imlie Serial Channel Numbers on Dish TV HD – 112
Imlie Serial Channel Numbers on Videocon d2h – 902
Imlie TV Serial
"Imlie" is a drama series on Indian television that started on 16 November 2020 on star plus. "Imlie" is directed by Atif Khan and produced by Gul Khan and Karishma Jain. The story of the serial is by Ved Raj, Vera Raina, and Aakriti Atreja. This serial is a remake of the Bengali series 'Ishti Kutum,' shown on star jalsa. The number of episodes it completed is 263, and it is currently running its season 1. The IMDB rating of the serial is 4.2/10. This serial is telecast on television from 8:30 pm to 9:00 pm. The lead role of "Imlie" are Sumbul Touqueer Khan as Imli, Gashmeer Mahajani as Aditya Kumar Tripathi, and Mayuri Deshmukh as Malini Chaturvedi.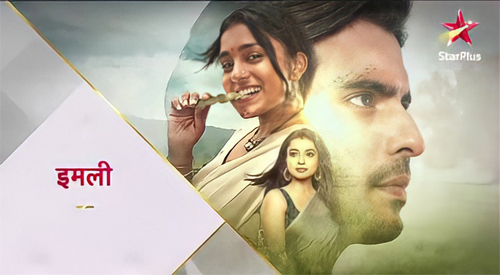 The story of Imlie serial is a love triangle based on a girl (Imlie) who comes from a tribal village, a small community on the outskirts of Uttar Pradesh. A journalist (Aditya Kumar Tripathi) and his girlfriend Malini (Mayuri Deshmukh). This serial is based on these three characters.
(Imlie) who takes pride in being a village girl and is not afraid to give answers to towns' people. The story Imlie is about a village girl, Imli, who, due to a misunderstanding and coincidence, married a journalist (Aditya Kumar Tripathi), and here Aditya falls in love with a girl named Malini. After the marriage, Imli discovers that he is already married. So, this love triangle goes on.
Imlie Timing & Schedule with Repeat telecast Timing
| | |
| --- | --- |
| TV Channel Name | Star Plus |
| Show Timings | Mon – Sat, 08:30 PM – 09:00 PM |
| Running Time | 22-25 Minutes |
| Repeat Telecast Timing | Mon – Sat, 11:30 AM – 12:00 AM |
| Starting Date | 16 November 2020 |
| Language | Hindi |
| Region | Indian |