Tera Yaar Hoon Main (SAB TV) Channel Number On Airtel DTH, Tata Sky, Dish TV & more
Tera Yaar Hoon Main Serial telecast Monday to Saturday at 8:00pm on Sony SAB channel. The show can also be stream on the Sony Liv. Check other TV operator details –
| Name Of Operator | Channel Number |
| --- | --- |
| Tata sky SD | 134 |
| Tata sky HD | 132 |
| Airtel DTH SD | 126 |
| Airtel DTH HD | 127 |
| Dish TV SD | 107 |
| Dish TV HD | 106 |
| Videocon D2h | 911 |
| Hathway SD | 6 |
| Asianet Digital TV SD | 512 |
| Asianet Digital TV HD | 853 |
| SUN Direct TV SD | 320 |
| DEN SD | 133 |
| DEN HD | 148 |
| Siti Cable SD | 211 |
| Siti Cable HD | 725 |
Tera Yaar Hoon Main Serial Channel Number
Tera Yaar Hoon Main Serial Channel Numbers on Tata Sky SD – 134
Tera Yaar Hoon Main Serial Channel Numbers on Tata Sky HD – 132
Tera Yaar Hoon Main Serial Channel Numbers on Airtel DTH SD- 126
Tera Yaar Hoon Main Serial Channel Numbers on Airtel DTH HD – 127
Tera Yaar Hoon Main Serial Channel Numbers on Dish TV SD – 107
Tera Yaar Hoon Main Serial Channel Numbers on Dish TV HD – 106
Tera Yaar Hoon Main Serial Channel Numbers on Videocon d2h – 911
Tera Yaar Hoon Main TV Serial
A simple guy named Rajeev Bansal, living in Jaipur with his loving and caring family. Rajeev had a son Rishabh and a wife Jhanvi. Rishabh was very much attached to his mother and used to share everything with her. Rajeev saw the bond between his wife and son and wanted to establish the same bond with Rishabh. He made many attempts to befriend Rishabh but failed every single time.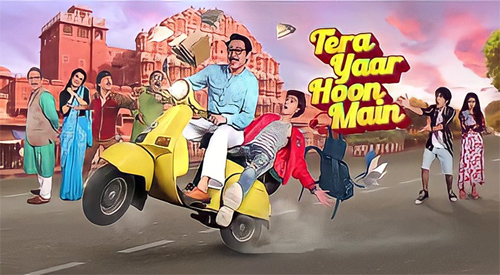 Rajeev got a demand for a car from his family but he refused because of his financial state. Jhanvi gave it a thought and borrowed some money from her father and bought a car with a down payment and surprised Rajeev. One day while leaving for office, Rajeev was getting late and had a small quarrel with Jhanvi who was serving breakfast. While reaching his office he realized his mistake and had some guilt, so he decided to buy a bouquet for Jhanvi on his way to his home.
Jhanvi also felt bad and she also had the same idea and left the house for the flower shop. While returning Jhanvi and Rajeev was on a phone call and a pedestrian came in front of Jhanvi's car, in an attempt of saving the pedestrian's life Jhanvi took a hard turn and met an unfortunate accident and was hit by another car. In this accident, in this attempt of saving the pedestrian's life, Jhanvi lost her own life and the man in the other car was misfortunate and lost his life too.
Tera Yaar Hoon Main Timing & Schedule with Repeat telecast Timing
| | |
| --- | --- |
| TV Channel Name | Sony SAB |
| Show Timings | Mon – Fri, 8:00 PM – 8:30 PM |
| Running Time | 22-25 Minutes |
| Repeat Telecast Timing | Mon – Fri, 5:00 PM – 5:24 PM |
| Starting Date | 31 August 2020 |
| Language | Hindi |
| Region | Indian |