Apna Time Bhi Aayega Channel Number On Airtel DTH, Tata Sky, Dish TV & more
Apna Time Bhi Aayega is telecast Monday to Friday at 6:30pm on Zee TV channel. The show can also be stream on the ZEE5. Check other TV operator details –
| Name Of Operator | Channel Number |
| --- | --- |
| Tata sky SD | 143 |
| Tata sky HD | 141 |
| Airtel DTH SD | 108 |
| Airtel DTH HD | 109 |
| Dish TV SD | 111 |
| Dish TV HD | 110 |
| Videocon D2h | 903 |
| Hathway SD | 2 |
| Hathway HD | 335 |
| Asianet Digital TV SD | 514 |
| Asianet Digital TV HD | 854 |
| SUN Direct TV SD | 308 |
| SUN Direct TV HD | 876 |
| DEN SD | 66 |
| DEN HD | 108 |
| Siti Cable SD | 201 |
| Siti Cable HD | 732 |
Apna Time Bhi Aayega Serial Channel Number
Apna Time Bhi Aayega Serial Channel Numbers on Tata Sky SD – 143
Apna Time Bhi Aayega Serial Channel Numbers on Tata Sky HD – 141
Apna Time Bhi Aayega Serial Channel Numbers on Airtel DTH SD- 108
Apna Time Bhi Aayega Serial Channel Numbers on Airtel DTH HD – 109
Apna Time Bhi Aayega Serial Channel Numbers on Dish TV SD – 111
Apna Time Bhi Aayega Serial Channel Numbers on Dish TV HD – 110
Apna Time Bhi Aayega Serial Channel Numbers on Videocon d2h – 903
Apna Time Bhi Aayega TV Serial
Rani is a great student at her school and aspires to be an engineer to satisfy her father's (Radhameer) ambitions. Rani resides in Ballia with her brother Pinku and grandma. Her father works for the Rajawat family in the city, and her mother has passed away. In Jaipur, Veer Singh Rajawat is a well-known doctor. The Rajawat family is one of Jaipur's wealthiest and most well-known families.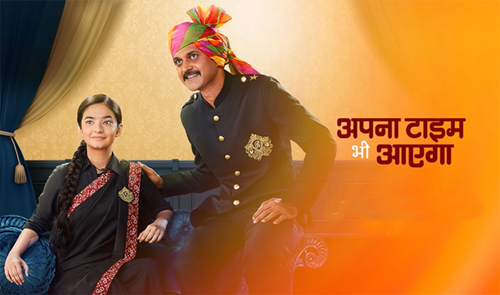 Because of Veer, Rani had an accident. Veer shows her around his house and introduces her to her father. Rani's father was arrested and brought to jail after driving while inebriated and colliding with four people. Rani continues her search for proof that he is innocent.
She puts her aspirations on wait and takes up her father's job with the Rajawat family. Veer proposes to Kiara. Rajeshwari Singh Rajawat (RaniSa), the matriarch of the Rajawat family, has never shown Veer any affection, thus he agrees to marry the lady she chooses for him. Prince Jay Singh arrives at the mansion, intending to marry Nandini, Veer's stepsister. Jay is close to forcing Rani, but Veer intervenes and protects her. Veer earns Rani's esteem. Rani learns that her father is in prison as a result of Veer's actions. Someone summons Rani to the shrine, claiming to have proof that her father is not guilty. However, this was a ruse devised by Jay Singh.
Apna Time Bhi Aayega Timing & Schedule with Repeat telecast Timing
| | |
| --- | --- |
| TV Channel Name | Zee TV |
| Show Timings | Mon – Fri, 6:30 PM – 7:00 PM |
| Running Time | 22-25 Minutes |
| Starting Date | 20 October 2020 |
| Language | Hindi |
| Region | Indian |