Kuch Rang Pyar Ke Aise Bhi Channel Number On Tata Sky, Airtel DTH, Dish TV & more
Kuch Rang Pyar Ke Aise Bhi is telecast Monday to Friday at 8:30pm on Sony SET India channel. The show can also be stream on the SonyLIV. Check other TV operator details –
| Name Of Operator | Channel Number |
| --- | --- |
| Tata sky SD | 130 |
| Tata sky HD | 128 |
| Airtel DTH SD | 111 |
| Airtel DTH HD | 112 |
| Dish TV SD | 105 |
| Dish TV HD | 104 |
| Videocon D2h | 906 |
| Hathway SD | 5 |
| Hathway HD | 338 |
| Asianet Digital TV | 503 |
| SUN Direct TV SD | 310 |
| SUN Direct TV HD | 874 |
| DEN SD | 134 |
| DEN HD | 143 |
| Siti Cable SD | 204 |
| Siti Cable HD | 733 |
Kuch Rang Pyar Ke Aise Bhi Serial Channel Number
Kuch Rang Pyar Ke Aise Bhi Serial Channel Numbers on Tata Sky SD – 130
Kuch Rang Pyar Ke Aise Bhi Serial Channel Numbers on Tata Sky HD – 128
Kuch Rang Pyar Ke Aise Bhi Serial Channel Numbers on Airtel DTH SD – 111
Kuch Rang Pyar Ke Aise Bhi Serial Channel Numbers on Airtel DTH HD – 112
Kuch Rang Pyar Ke Aise Bhi Serial Channel Numbers on Dish TV SD – 105
Kuch Rang Pyar Ke Aise Bhi Serial Channel Numbers on Dish TV HD – 104
Kuch Rang Pyar Ke Aise Bhi Serial Channel Numbers on Videocon d2h – 906
Kuch Rang Pyar Ke Aise Bhi TV Serial
The show "Kuch Rang Pyar Ke Aise Bhi" is a television drama series that started on 29 February 2016 on Sony Entertainment Television. Mamata Yash Patnaik wrote this series. Noel Smith and Prateek Shah direct this serial. The producer of the serial Kuch Rang Pyar Ke Aise Bhi is Yash Patnaik and Mamata Yash Patnaik. The serial has 3 seasons, and currently, season 3 has been telecasted. Erica Fernandes plays the lead role of the serial as Dr Sonakshi Bose Dixit, Shaheer Sheikh as Dev Dixit and Supriya Pilgaonkar as Ishwari Tripathi Dixit (Dev's mother). The rating of this series is 9.6/ 10 in IMBD.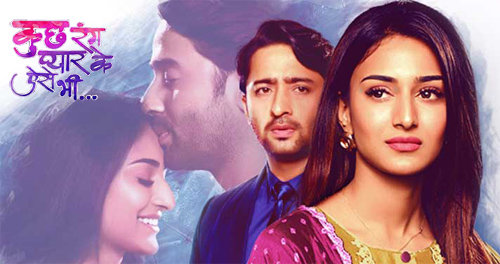 The story revolves around Sonakshi and Dev and their married life. Season 3 is about their life after 9 years of marriage and their love and understanding for each other. They come to know that Ayushmann Verma is their real son who got replaced during birth with Suhana. They brought Ayush home, and this affected their relationship with the family members. Ishwari and Sonakshi have different parenting techniques, and thus clashes take place with them. Ishwari is now more possessive about Ayush, which she used to show for Dev. On the other hand, Suhana gets insecure about her family's love for her. Sonakshi and Dev try to mention a balance among the children along with Ishwari's overprotectiveness. Later, a twist occurs when Sanjana (Sana Amin Sheikh), an employee of Dev's company, starts falling in love with Dev. This makes Sonakshi insecure.
The story is about Sonakshi and Dev and their mature love after 9 years of marriage.
Kuch Rang Pyar Ke Aise Bhi Timing & Schedule with Repeat telecast Timing
| | |
| --- | --- |
| TV Channel Name | Sony SET |
| Streaming Platform | SonyLIV |
| Show Timings | Mon – Fri, 08:30 PM – 9:00 PM |
| Running Time | 22-25 Minutes |
| Repeat Telecast Timing | – |
| Starting Date | 29 February 2016 |
| Language | Hindi |
| Region | Indian |