Yeh Rishta Kya Kehlata Hai (STAR Plus) Channel Number On Airtel DTH, Tata Sky, Dish TV & more
Yeh Rishta Kya Kehlata Hai is telecast Monday to Saturday at 08:30pm on Star Plus channel. The show can also be stream on the Disney+ Hotstar. Check other TV operator details –
| Name Of Operator | Channel Number |
| --- | --- |
| Tata sky SD | 117 |
| Tata sky HD | 115 |
| Airtel DTH SD | 105 |
| Airtel DTH HD | 106 |
| Dish TV SD | 113 |
| Dish TV HD | 112 |
| Videocon D2h | 902 |
| Hathway SD | 1 |
| Hathway HD | 902 |
| Asianet Digital TV SD | 501 |
| Asianet Digital TV HD | 848 |
| SUN Direct TV SD | 113 |
| SUN Direct TV HD | 112 |
| DEN SD | 1 |
| DEN HD | 41 |
| Siti Cable SD | 202 |
| Siti Cable HD | 731 |
Yeh Rishta Kya Kehlata Hai Serial Channel Number
Yeh Rishta Kya Kehlata Hai Serial Channel Numbers on Tata Sky SD – 117
Yeh Rishta Kya Kehlata Hai Serial Channel Numbers on Tata Sky HD – 115
Yeh Rishta Kya Kehlata Hai Serial Channel Numbers on Airtel DTH SD – 105
Yeh Rishta Kya Kehlata Hai Serial Channel Numbers on Airtel DTH HD – 106
Yeh Rishta Kya Kehlata Hai Serial Channel Numbers on Dish TV SD – 113
Yeh Rishta Kya Kehlata Hai Serial Channel Numbers on Dish TV HD – 112
Yeh Rishta Kya Kehlata Hai Serial Channel Numbers on Videocon d2h – 902
Yeh Rishta Kya Kehlata Hai TV Serial
Yeh Rishta Kya Kehlata Hai" is a popular serial shown on star plus and Disney Hotstar. Saba Mumtaz writes the series Bhavna Vyas], Ghazala Nargis, Munisha Rajpal and Zama Habib. The producer of the series is Rajan Shahi. This was an old series which was released on 12 January 2009. The directors are Romesh Kalra, Rishi Mandal, and Ram Pandey. The number of episodes till now completed is 3536. "Yeh Rishta Kya Kehlata Hai" lead actors and actresses are Karan Mehra/Naitik Singhania and Hina Khan as Akshara Singhania: Naitik's wife. This has been a top-rated show from the time it was released.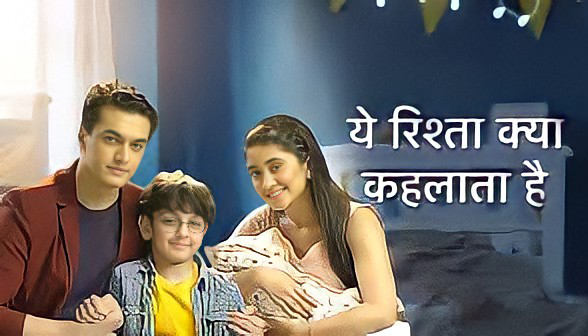 Akshara (Hina Khan ) and Naitik (Karan Mehra ) are both from a royal joint Marwari family based in Udaipur that have an arranged marriage. After their marriage, they struggled to get to know each other and then started slowly to understand, support and love each other. After a few years of togetherness, they gave birth to a son, Naksh. Naitik falls into a coma after he met an accident.
The other side of the story includes Akshara's older brother, Shaurya's love story with her best friend Varsha, who gets married and gives birth to a daughter, Ananya. Naitik's sister Nandini marries Mohit Agarwal and adopts Yash, and also Rashmi marries. Nikhil.
Yeh Rishta Kya Kehlata Hai Timing & Schedule with Repeat telecast Timing
| | |
| --- | --- |
| TV Channel Name | Star Plus |
| Show Timings | Mon – Sat, 09:30 PM – 10:00 PM |
| Running Time | 22-25 Minutes |
| Repeat Telecast Timing | Mon – Sat, 12:00 AM – 12:30 AM |
| Starting Date | 12 January 2009 |
| Language | Hindi |
| Region | Indian |