Shimmer And Shine Channel Number On Tata Sky, Airtel DTH, Dish TV & more
Shimmer And Shine is telecast Monday to Saturday at 5:00am on Nick Jr channel. The show can also be stream on the Amazon Prime & nickjrindia.com. Check other TV operator details –
| Name Of Operator | Channel Number |
| --- | --- |
| Tata sky SD | 685 |
| Airtel DTH SD | 447 |
| Dish TV SD | 987 |
| Videocon D2h HD | 1121 |
| Sun Direct | 525 |
| Hathway SD (DL & MH) | 415 |
| Hathway SD (West Bengal) | 410 |
| Hathway SD (Karnataka) | 1078 |
| Hathway SD (Telangana) | 521 |
| GTPL (Gujarat) | 369 |
| Fastway | 388 |
| IMCL (DL) | 438 |
| IMCL (MH & KA) | 431 |
| Siti Cable (DL & MH) | 450 |
| Siti Cable (Telangana) | 411 |
| Den (MH, DL, KA & GL) | 435 |
| Den (UP) | 433 |
Shimmer And Shine TV Show
The show first aired in August 2015 on Nickelodeon and it aired on Treehouse TV in Canada. The genre of the show can be said to be fantasy-based and is directed by Fred Osmond, Jay Baker, Scott O'Brien, and some others. The directors of the show kept on changing during the course of different seasons. The show currently has four seasons with more than 80 episodes so far. Today the show can also be seen on Nick. Jr channel which is a kids-oriented channel.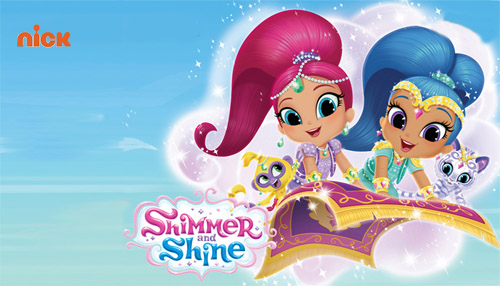 The plot of the show is fantasy-based and revolves around a girl named Leah who is young at age and knows two genie sisters named Shimmer and Shine. So as all genie's do, Shimmer and Shine grant three wishes to Leah every day. The catch is that the genie sisters are clumsy and often make mistakes that are not intentional. So, to clean up the mess, Leah, Shimmer, and Shine all three cohesively work together to resolve the problems and also make sure that no one knows the secret of Leah.
Although, the next season has a different plot where they show where Shimmer and Shine actually live. It's a fantasy world.
Shimmer And Shine Timing & Schedule with Repeat telecast Timing
| | |
| --- | --- |
| TV Channel Name | Nick Jr |
| Streaming Platform | Amazon Prime, nickjrindia.com |
| Show Timings | Mon – Sat, 05:00 AM – 06:00 AM |
| Running Time | 45-50 Minutes |
| Repeat Telecast Timing | Mon – Sat, 01:00 AM – 02:00 AM |
| Starting Date | 24 August 2015 |
| Language | Hindi |
| Region | Indian |
Shimmer And Shine TV Show Channel Number
Shimmer And Shine Serial Channel Numbers on Tata Sky SD – 685
Shimmer And Shine Serial Channel Numbers on Airtel DTH SD – 447
Shimmer And Shine Serial Channel Numbers on Dish TV SD – 987
Shimmer And Shine Serial Channel Numbers on Videocon d2h – 1121