Oggy And The Cockroaches Channel Number On Tata Sky, Airtel DTH, Dish TV & more
Oggy And The Cockroaches is telecast Monday to Friday at 10:30 AM on Cartoon Network channel. The show can also be stream on the Prime Video and Disney plus Hotstar Check other TV operator details –
| Name Of Operator | Channel Number |
| --- | --- |
| Tata sky SD | 666 |
| Tata sky HD | 665 |
| Airtel DTH SD | 666 |
| Airtel DTH HD | 665 |
| Dish TV SD | 953 |
| Videocon D2h HD | 501 |
| Hathway SD | 403 |
| SUN Direct TV SD | 528 |
| Siti Cable SD | 401 |
Oggy And The Cockroaches TV Show
Oggy and the Cockroaches are rated 7.3/10 IMDB and are like another version of the show Tom and Jerry. Oggy and the Cockroaches first aired in September 1998 and has currently 7 seasons on the air. The repeat episodes are still aired on the channel Cartoon Network. The cartoon series is directed by Olivier Jean-Marie and is produced by French production houses namely Gaumont Multimedia and Xilam Animation. Since the show is originally shot in the French language, the show is a silent comedy and the characters use gibberish and actions to communicate and create comedy.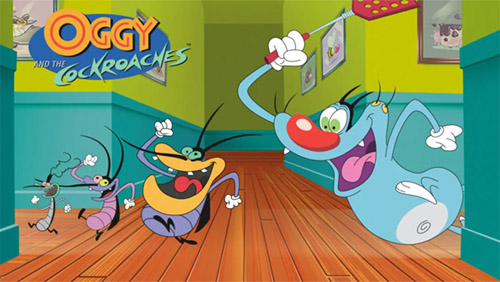 The series is about a cat named "oggy" who wants to live his life peacefully and be lazy all the time. He has an elder brother named "jack" who works in a museum and is usually out of the house. To make oggy's life miserable, there are 3 cockroaches in the house who solely aim to instigate oggy into doing something regretful and eventually move out of the house. The names of the 3 cockroaches are:
Dee-Dee: He's the one with a dark blue body and is always trying to steal food from Oggy.
Marky: The tallest cockroach.
Joey: The one with a pink body.
Oggy And The Cockroaches Timing & Schedule with Repeat telecast Timing
| | |
| --- | --- |
| TV Channel Name | Cartoon Network |
| Streaming Platform | Prime Video, Disney plus Hotstar |
| Show Timings | Mon – Fri, 10:30 AM – 11:30 AM |
| Running Time | 20-25 Minutes |
| Repeat Telecast Timing | Mon – Fri, 12:30 PM – 01:00 PM |
| Starting Date | 6 September 1998 |
| Language | Hindi |
| Region | Indian |
Oggy And The Cockroaches TV Show Channel Number
Oggy And The Cockroaches Serial Channel Numbers on Tata Sky SD – 666
Oggy And The Cockroaches Serial Channel Numbers on Tata Sky HD – 665
Oggy And The Cockroaches Serial Channel Numbers on Airtel DTH SD – 666
Oggy And The Cockroaches Serial Channel Numbers on Airtel DTH HD – 665
Oggy And The Cockroaches Serial Channel Numbers on Dish TV SD – 953
Oggy And The Cockroaches Serial Channel Numbers on Videocon d2h – 501