Swabhiman (Star Pravah) Channel Number On Tata Sky, Airtel DTH, Dish TV & more
Swabhiman – Shodh Astitvacha telecast Monday to Friday at 6:30pm on Star Pravah channel. The show can also be stream on the Disney+ Hotstar . Check other TV operator details –
| Name Of Operator | Channel Number |
| --- | --- |
| Tata sky SD | 1210 |
| Tata sky HD | 1209 |
| Airtel DTH SD | 520 |
| Airtel DTH HD | 521 |
| Dish TV SD | 1206 |
| Dish TV HD | 1205 |
| Videocon D2h | 753 |
| Hathway | 500 |
| Siti Cable | 529 |
Swabhiman – Shodh Astitvacha Serial Channel Number
Swabhiman – Shodh Astitvacha Serial Channel Numbers on Tata Sky SD – 1210
Swabhiman – Shodh Astitvacha Serial Channel Numbers on Tata Sky HD – 1209
Swabhiman – Shodh Astitvacha Serial Channel Numbers on Airtel DTH SD – 520
Swabhiman – Shodh Astitvacha Serial Channel Numbers on Airtel DTH HD – 519
Swabhiman – Shodh Astitvacha Serial Channel Numbers on Dish TV SD – 1206
Swabhiman – Shodh Astitvacha Serial Channel Numbers on Dish TV HD – 1205
Swabhiman – Shodh Astitvacha Serial Channel Numbers on Videocon d2h – 753
Swabhiman – Shodh Astitvacha TV Serial
The show Swabhimaan is produced by Ranjeet Thakur and Hemant Ruprell and the production house is named Frames production. The show is the remake of a famous Bengali show called Mohor.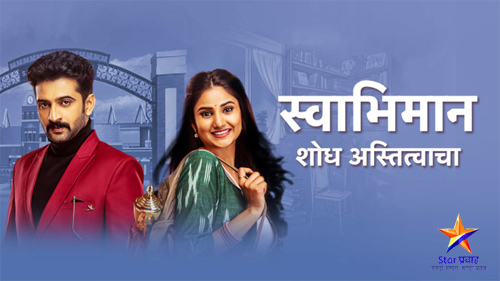 The show revolves around the story of a young girl Pallavi, who is an undergraduate student and wants to see herself become a teacher one day. On the contrary, her father wants her to marry someone the moment she finishes college. In the midst of the conflict, Pallavi takes a bold step and decides to run away from her house which was supported by her mother as well. Her father wanted her to marry a boy named Shantanu, who despite being educated and modern, still believes a married woman shouldn't be working and should be occupied with the household only. From here, the drama continues and the show reflects on how Pallavi decides to push her boundaries and achieve her dreams with the constant burden of getting married.
The show started airing on the channel Star Parvah which is a Marathi channel on 22nd February 2021. The character of Pallavi is played by TV actress Pooja Birari and the character of Shantanu is played by Akshar Kothari.
Swabhiman – Shodh Astitvacha Timing & Schedule with Repeat telecast Timing
| | |
| --- | --- |
| TV Channel Name | Star Pravah |
| Streaming Platform | Disney+ Hotstar |
| Show Timings | Mon – Fri, 6:30 PM – 7:00 PM |
| Running Time | 22-25 Minutes |
| Repeat Telecast Timing | Mon – Fri, 4:30 PM – 5:00 PM |
| Starting Date | 22 February 2021 |
| Language | Marathi |
| Region | Maharashtra, India |