Sahkutumb Sahaparivar Channel Number On Tata Sky, Airtel DTH, Dish TV & more
Sahkutumb Sahaparivaris telecast Monday to Friday at 7:00pm on Star Pravah channel. The show can also be stream on the Disney+ Hotstar . Check other TV operator details –
| Name Of Operator | Channel Number |
| --- | --- |
| Tata sky SD | 1210 |
| Tata sky HD | 1209 |
| Airtel DTH SD | 520 |
| Airtel DTH HD | 521 |
| Dish TV SD | 1206 |
| Dish TV HD | 1205 |
| Videocon D2h | 753 |
| Hathway | 500 |
| Siti Cable | 529 |
Sahkutumb Sahaparivar Serial Channel Number
Sahkutumb Sahaparivar Serial Channel Numbers on Tata Sky SD – 1210
Sahkutumb Sahaparivar Serial Channel Numbers on Tata Sky HD – 1209
Sahkutumb Sahaparivar Serial Channel Numbers on Airtel DTH SD – 520
Sahkutumb Sahaparivar Serial Channel Numbers on Airtel DTH HD – 519
Sahkutumb Sahaparivar Serial Channel Numbers on Dish TV SD – 1206
Sahkutumb Sahaparivar Serial Channel Numbers on Dish TV HD – 1205
Sahkutumb Sahaparivar Serial Channel Numbers on Videocon d2h – 753
Sahkutumb Sahaparivar TV Serial
Another great family show that teaches the importance of personal relations. The airs on the Star Pravah channel and is directed by Bharat Gaikwad. Each episode is around 20-25 minutes long and reflects the importance of having sound family relations. The protagonists of the show are Suryakant and Sarita, where Suryakant is a businessman who has three junior brothers named Prashant, Omkar, and Vaibhav in no particular order.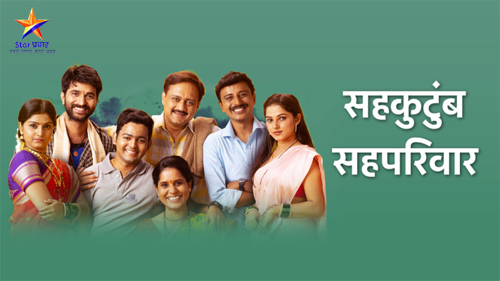 While Suryakant and Sarita get married, Sarita comes to a conclusion of not having children and being a homemaker who will take care of Suryakant's younger brothers. The family drama begins when Vaibhav decides to marry Avni and Prashant gets married to Anjali. After this show revolves around how Sarita is able to maintain a sane and sound environment in the house whilst so many members living under the same roof.
The show is available in the Marathi language and can be streamed on Disney+ Hotstar, initially, the TRP rating was low and people didn't like the concept but today it is one of the most-watched Marathi shows and has occupied the top 5 positions across all Marathi shows.
Sahkutumb Sahaparivar Timing & Schedule with Repeat telecast Timing
| | |
| --- | --- |
| TV Channel Name | Star Pravah |
| Streaming Platform | Disney+ Hotstar |
| Show Timings | Mon – Fri, 7:00 PM – 7:30 PM |
| Running Time | 22-25 Minutes |
| Repeat Telecast Timing | Mon – Fri, 4:00 PM – 4:30 PM |
| Starting Date | 24 February 2020 |
| Language | Marathi |
| Region | Maharashtra, India |